My Wife-To-Be And Her Mother Treat My Soon-To-Be-Father-In-Law Like A Houseboy And I Am Worried – Man Seeks For Help
A worried man who is planning to get married into a family is worried about how his fiance and her mother are maltreating his soon-to-be father-in-law.
Read his full story below;
Please I want people to help me out here. I proposed to my girlfriend of 8 months last 2 week ago and we agreed to visit her home last Sunday. I have always dropped her off around the place but I have never entered the house because I wasn't yet ready to meet the parent because we were just dating then and I wasn't yet sure that she was the one for me.
Meanwhile all these while, My girl was only referring to her mum so I subconsciously concluded that the father is late. So last Sunday, I got to their house & what I saw was very sad. I saw a man looking so haggard in the sitting room and I greeted him, He answered in a very low tone and welcomed me. My girls mum soon came out to the sitting room and also greeted me. We exchanged pleasantries before my girl came out to join us in the discuss.
At a point my girls mum brought out money and asked the haggard man to go and buy fuel to power the generator for me so that Heat will not disturb me.
We discussed at length after the man left.
After the meeting we fixed another date for the second meeting that I was supposed to attend with a family member. When I was about leaving, I gave them some money and some to the man and he fell on his knees thanking me as if he has never owned a Gh300 😳 in his entire life.
When my girl was seeing me off, I asked her who the man was and lo and behold, it was her father. I couldn't believe my ears. it was like a rude joke. it was unbelievable. She must has sensed my confusion before she started telling me stories of how the man maltreated her mum when he had money, how he married another wife who squandered all his money and left them in penury. She said he used to beat her mum and all sorts which I cannot write here.
Since that Sunday till now, I've had no peace of mind, I've been thinking and imagining how a right thinking woman and her daughter can comfortably relegate the man of the house to a mere houseboy. That Sunday, the man was wearing a torn knicker and a white singlet that I won't even use to clean my car. Even my wife to be hushed him down when he came back and wanted to keep the fuel change to himself.
Something is wrong somewhere, a woman who could treat her husband like this no matter what he did in the past is scary. I have not even picked her calls since that Sunday evening. I am scared and I don't know what to do next.
Please advise me."
Click To Join Our Telegram Channel

Advertise on Fredericknuetei.com ..Send your Stories to Our WhatsApp: +233205542403
Nollywood Actress, Biodun Okeowo Shows Off Her Beauty In On IG
Nollywood actress, businesswoman, film producer, model, brand ambassador and influencer, Biodun Okeowo dazzled her followers on social media with the recent pictures of herself showing off her stylish wear she uploaded on her official Instagram account, the post got her a lot of reactions from her fans and also caught the attention of internet users.
Biodun Okeowo logged in to her personal Instagram handle earlier on Wednesday to share some new photos of herself with fans following her on the platform, she can be seen showing off the latest outfit in her collection, she looked stunning as she slayed in a colorful, extra large, spa jumpsuit and she also rocked a puffy, curly black hair and a pair of heels.
Here are the photos below:
Fans of the Nollywood actress rushed to the comment section to express how they feel about her latest look, they showered her with compliments and adoration.
Click To Join Our Telegram Channel

Advertise on Fredericknuetei.com ..Send your Stories to Our WhatsApp: +233205542403
Why so hot baby Fans React As Actress Destiny Etiko Shows Off Her Beautiful Curves
The popular Nollywood actress, entrepreneur, producer, brand ambassador, and social media influencer, Destiny Etiko has sparked reactions on social media after taking to her official Instagram page to share a post from a movie set, Destiny Etiko shared the video to show off the beautiful black outfit she wrote to shot a movie. Destiny Etiko is one of the most beautiful Nollywood actresses in the Nigerian entertainment industry.
She has featured, scripted, directed, and produced several award-winning Nollywood movies.
Check out some of the beautiful pictures she posted on Instagram some hours ago:
However, Destiny Etiko is one of the multi-talented Nollywood actresses we have in the Nigerian movie industry. She is naturally endowed. She is one of the top-rated Nollywood actresses in the Igbo movies Industry.
Read her caption in the screenshot below:

Read how her lovely Instagram followers stormed her comment section to compliment her beautiful black outfit.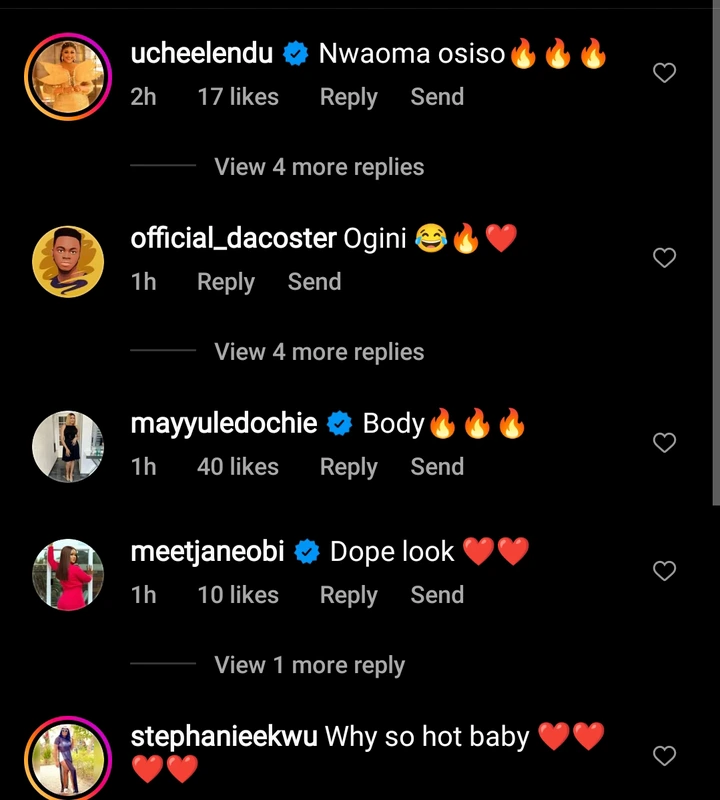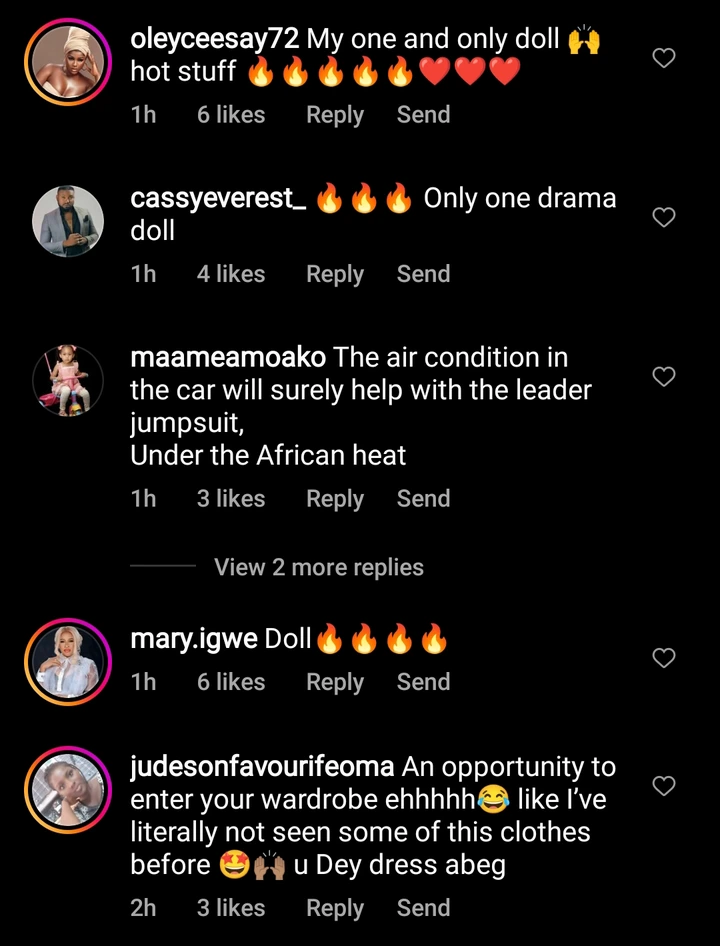 Click To Join Our Telegram Channel

Advertise on Fredericknuetei.com ..Send your Stories to Our WhatsApp: +233205542403