HUAWEI nova Y70: The Smartest Choice For Entry-Level Smartphones In Ghana This 2022
No matter how you look at it, the prices of flagships or high-end smartphones are still a deterrent for many people, especially those on a limited budget. Thankfully, some outstanding affordable alternatives have significantly improved over the past few years. Features such as battery life, charging speed, and display were major differentiators between flagships and mid-rangers over the past couple of years, but even today's entry-level smartphones come with astonishing battery life and impressive displays.
Huawei, the global iconic tech brand is known to deliver across all smartphone categories and it has recently announced the launch of the HUAWEI nova Y70, a new addition that diversifies the HUAWEI nova Y series. At a more comprehensive price range, the HUAWEI nova Y Series is designed to let more consumers enjoy the profound user experience and services of Huawei products at an accessible price point, perfect for youngsters and students. The HUAWEI nova Y70 is Huawei's latest entry-level phone with the longest battery life, it is equipped with a humongous 6000mAh battery with 22.5W HUAWEI SuperCharge, an expansive 6.75-inch display, a versatile 48MP AI Triple camera in addition to 128GB internal storage capacity
Read on to find out why we think it is the top 2022 entry-level smartphone available today in Ghana.
Large battery with HUAWEI SuperCharge
The HUAWEI nova Y70 inherits the long-lasting battery life of Huawei's products. It is equipped with a 6000mAh (typical value) large battery, which can last 3 days with one full charge and provide 3 hours of continuous video playback with a 10-minute charge. The HUAWEI nova Y70 can also be used as a power bank that provides an output of 5V/1A to support wired reverse charging for devices such as smartwatches, bands, and smartphones when out and about. The HUAWEI nova Y70 can identify and turn off the power consumption of non-user reserved applications and non-core applications, to provide outstanding battery life in extreme usage scenarios. Turning on Low Battery mode when the battery is at 5%, HUAWEI nova Y70 can standby for up to 12 hours before shutting down. Users can count on it without worrying that the battery might run out at a critical moment.
This smartphone stands out among other devices at the same price point with support of 22.5W HUAWEI SuperCharge. Users can make use of the time finishing their work to charge the HUAWEI nova Y70 for 10 minutes and enjoy 3 hours of video playback. Lastly, the HUAWEI nova Y70 improves charging safety with an integrated 13-layer charge protection system.
A spacious and gorgeous Display
The HUAWEI nova Y70 features a 6.75-inch HUAWEI FullView Display. Whether it is images, videos, or gaming, the HUAWEI nova Y70 can display more content at a larger size. The smartphone's screen also supports an industry-leading 10-point Multi-touch technology to provide a fast response even when the user is making multi-finger gestures. This delivers an immersive gaming experience, especially for shooting games.
Smartphones can be used across different scenarios, for example, you may be browsing a website under dim lights or reading e-books for long hours. In this case, to reduce the burden on users' eyes, HUAWEI nova Y70 has designed smart dimming, luminous screen, and e-book mode as well as a video quality enhancement feature to further improve the user's viewing experience. Moreover, you can take screenshots easily with knuckle gestures.
48MP AI Triple Camera
The HUAWEI nova Y70 is equipped with a 48MP AI Triple Camera, sporting a 48MP High-res Main Camera, a 120° 5MP Ultra-Wide Angle Camera, and a 2MP Depth Camera. Thanks to the f/1.8 aperture of the 48MP High-res Main Camera, it brings in more light when shooting. Coupled with the optimized Huawei algorithms, the HUAWEI nova Y70 greatly enhances the quality of captured images, ensuring every shot is of optimal quality even shooting against the light, reduces noise, with a larger dynamic range, and improves the quality of images no matter you're shooting portraits and scenery.
Peace of mind with large internal storage
The HUAWEI nova Y70 comes with a standard 128GB storage capacity for users to easily store up all the content they want. To cater to users who need extra storage, HUAWEI nova Y70 supports up to 512GB storage capacity when using MicroSD cards, allowing users to store everything in their phone freely.
AppGallery: Trusted, innovative, easy to use, and secure
The trusted, innovative, user-friendly, and secure AppGallery is available on the HUAWEI nova Y70 where users can easily navigate, explore, find and download a wide range of high-quality apps.
Briefly, if you are looking for a new entry-level smartphone that truly crosses all the boundaries set by other smartphones in the same market segment with the same price point then the new HUAWEI nova Y70 is your phone. Huawei's latest entry-level phone with the longest battery life easily makes our top pick for 2021 budget smartphones in Ghana.
Buy Huawei nova Y70 now for GHS 1,379 via either the Consumer website, at the Huawei Experience Store Accra Mall, or any Accredited Retail Stores and get gifts valued up to GHS 109.
Connect with Huawei Mobile GH on Social Media
Facebook : Huawei Mobile GH
Twitter: Huawei Mobile GH
Instagram: Huawei Mobile GH
Click To Join Our Telegram Channel

Advertise on Fredericknuetei.com ..Send your Stories to Our WhatsApp: +233205542403
7 Great Computer User Tips – For Windows® Users Only

An Easy Performance Enhancement
If you're using the NTFS filing protocol on your system, instead of FAT32, you can get a bit more speed by disabling Windows® Indexing. The downside to this is that searching your drive for a specific file might take a moment or two longer, but everything else should run faster.
To disable this feature open My Computer and then right click on the drive you wish to reset – usually C-drive. Now click on Properties and then uncheck "Allow Indexing Service." It will take Windows® a few moments to accomplish this task, based on your processor speed. If you have other hard drives, perform the same process for them. After this is done, it's a good idea to empty the Recycle Bin and then Defragment your hard drive(s).
FREE Software
If you have a system and it does not have an office suite, such as Microsoft Office, and you don't want to pay several hundred dollars to have one, try Open Office. This is a great alternative to other suites, and it's free! Simply direct your browser to www.openoffice.org and follow the instructions for downloading and installation. Make no mistake, this free office suite is an extremely powerful set of software tools – easily a match for any competitor.
Internet Explorer (Microsoft's Internet browser) is unarguably the standard in computers. This is why hackers develop so many malware applications to invade it. If you use a different browser, you have much less chance of an invasion by malicious software. There is a great alternative available, and it's free. You can download a copy of Firefox at www.mozilla.org/products/firefox. You can even move your Internet Explorer settings into Firefox automatically – so you don't lose your Favorites, etc.
Laptop Printer Fix
If you're using a laptop that is running Windows® ME, and you're having trouble printing through the USB, try this simple fix. Go to the website for the company that manufactures your printer. If you use a Hewlett-Packard, for example, go to www.HP.com and download the appropriate drivers and install them. ME has drivers that recognize the USB printer is present and attached, but not the drivers needed to make it print. Which drivers you download and install will be dependant on your printer. After installing new drivers, update the printer as necessary in the Control Panel.
Save $$$ When Shopping On-line
If you're making a purchase on-line, and you know the item you want to buy, you can easily compare pricing all across the Internet. This can amount to a very substantial savings.
At this writing, I went to www.mysimon.com and typed in that I wanted to buy a printer: a Canon PIXMA iP4000. The service instantly checked the Internet and returned prices ranging from $62.00 up to $286.00. This kind of price spread is not at all unusual, especially for computers and electronics.
The My Simon website service only checks pricing, it does not provide a platform for purchasing anything, though it does link to such places. It also gives a rating for the sellers and other users' input regarding their experiences with the company. You can order the results of the search for your product by price, so that you can quickly find the lowest price from the highest rated dealer.
Windows® XP Professional Only
A feature of Windows® XP Professional, that is not available in the Home Edition, is the ability to encrypt files. This encryption prevents others from opening the files in the folder you encrypt. To encrypt one or more a folders, follow these easy steps.
Click Start, then My Documents. Now locate the folder you wish to encrypt and right click on it and choose Properties.
On the General tab, click on Advanced. Put a tick mark in the box for Encrypt Contents to Secure Data. Click okay two times and the confirmation dialog box will appear allowing you to select the folder, the folder and all files, and/or the subfolders within it.
Now you'll be able to place files in this folder (or folders) and since they're encrypted, others will not be able to access them.
Internet Safety
You should never reveal your username or password to anyone who e-mails you and asks for it. This information is frequently asked for by an Internet scheme called "phishing."
In a common phishing scam, you receive an e-mail that looks quite official. It usually appears to come from a bank or credit card company. A common title for these e-mails is "We need to verify your account information." Another is "Please logon to your account and verify your settings." If you do click where instructed, you'll end up on a site that appears to be the real one. If you fill in the username and password for of your on-line banking account, you can expect serious problems within twenty-four hours.
If you believe that a company or business that you do on-line business with really does require your information, then simply contact them. This way, you will know where you are sending your information, and what it will be used for.
CD Burning Error Fix
Burning music, video, and data CDs has become quite popular over the past few years, and the evolution of the supporting technology has yielded hardware and software that is better than ever – and very reasonably priced. CDs offer a great place to store substantial amounts of data in a small, easily retained format. They also give us new control over aspects of our entertainment.
A relatively common error received during CD burning informs you that the CD cannot be burned, or that there was an error during burning. Of course, you could actually have a defective CD drive, but this is usually not the case.
If you receive a message indicating that your CD cannot be burned, go to the website of your CD drive manufacturer. Look for the list of CD types (manufacturers/numbers) that are compatible with your device. Most often, you'll find that your CDs are not listed. The two types that seem to have the least difficulty being burned are manufactured by Sony and TDK. These cost a bit more, but they burn very reliably.
Along the same lines – H-P has introduced a new CD burner. This new burner requires the use of special CD blanks, but after you burn your data into the CD, you can flip it over and close the drive again. Then you can use the laser to burn a title for the CD directly onto the CD itself. It's new technology, but perhaps it will catch on and we'll see newer, better such devices in the near future.

Click To Join Our Telegram Channel

Advertise on Fredericknuetei.com ..Send your Stories to Our WhatsApp: +233205542403

Actress, Linda Osifo Stirs Reactions As She Posts New Stunning Pictures Online

Linda Osifo is a multi-talented Nollywood actress who is well known for always thrilling her fans with breathtaking photos of herself on social media sites. A few moments ago, the beautiful dark-skinned Linda took to her Instagram page to upload new lovely photos of herself, where she appears in a stunning outfit that gave her a remarkable look. She however went on to caption the post with "Sister Linda deserves to be happy" in a bid to thrill her fans with her latest fashion trend on the micro-blogging site.
Check out the amazing photos below: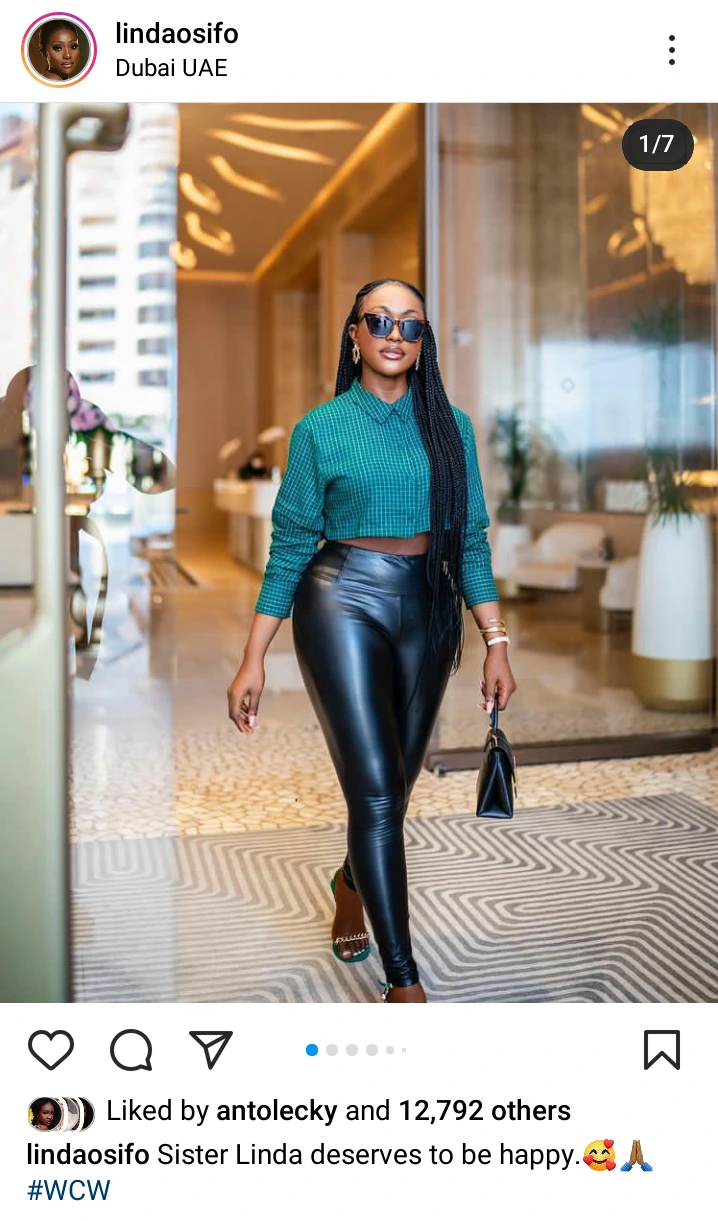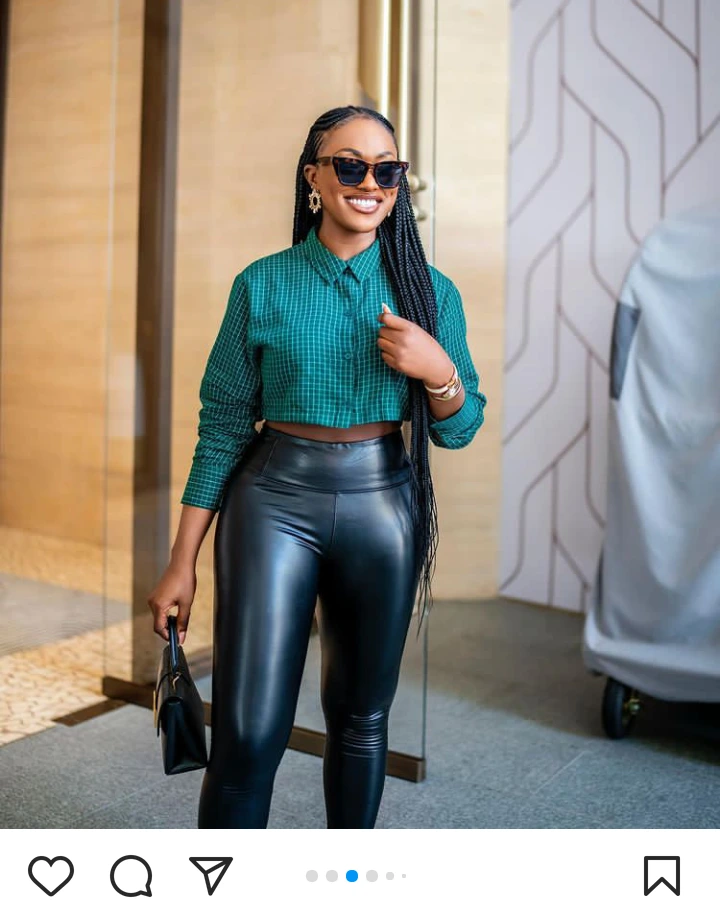 These latest stunning photos of Linda Osifo attracted a lot of her fans on Instagram, as many of them took to the comments section of the post to react with their delightful expressions.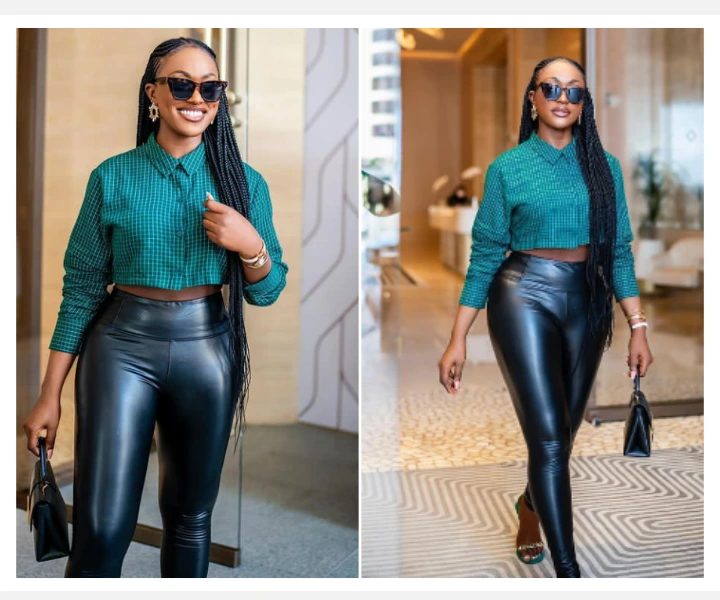 Click To Join Our Telegram Channel

Advertise on Fredericknuetei.com ..Send your Stories to Our WhatsApp: +233205542403